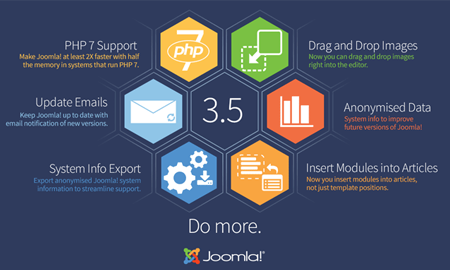 As you probably know, Joomla! 3.5 is out with support for PHP 7. As we received many questions, I want to confirm that all our extensions are fully compatible with Joomla! 3.5 and PHP 7.
In fact, this website has been running Joomla! 3.5 on PHP 7.0.4 for a while now, and it uses most of our products. I'm sure you noticed improvements in speed. We hope that you will enjoy the same benefits on your own site, as soon as you switch to PHP 7. If you use our extensions, there is no reason not to!
To be able to switch to PHP 7 we had to change our forum software from SMF to Kunena, something that was planned anyway. We migrated all users to Joomla and all forum posts to Kunena. The forum is now fully integrated with the rest of the site. You will be able to login using the same credentials you previously used. All forum posts are still there and searchable, with some dating back to 2006!
We will cover details of the migration in our blog so make sure to check it out if you are interested in data migration from other software to Joomla.