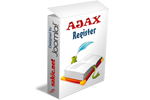 A new version of AJAX Register has been released. This version brings tighter integration with Joomla 3 optimising the appearance for latest Joomla version and implementing some of its core features. Some of them being drag-and-drop reorder for items, support for captcha plugins, ACL permisions for administration and support for one-click updates.
Read on for details on what's new in AJAX Register 3.5.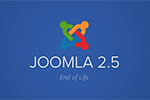 As you may know, the Joomla project has dropped support for Joomla version 2.5 at the end of the last year. As a result, we are now sunsetting development for Joomla 2.5, while still providing downloads and support for current versions of our products.
Learn what this mean to you and what you should do if you use our products on Joomla 2.5.

Welcome to our new website! Just launched, it features modern design trends and latest underlying system. The new touch and feel with friendly navigation will surely improve your online experience. It is accessible through a wide range of web browsers and devices, including mobiles and tablets, and has been designed to meet all relevant accessibility standards. Relying heavily on latest Joomla and our own extensions it will help demonstrate all the possibilities offered by our products.

AJAX Infinity is a plugin for Joomla! 3 that replaces Joomla pagination with auto-loading infinite scroll. Instead of clicking on pagination links, you can now simply scroll down to reach more content. The older articles will auto-populate as you scroll down through the page. Check out the DEMO to see it in action.

There is a new feature added to
AJAX Scroller
: now it can rotate images reading them directly from a directory on the server. So, if you want to use AJAX Scroller to show images, you don't need to create articles adding images any more. Just upload images to a folder, point AJAX Scroller to this directory and you are done.
Next