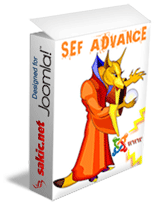 SEF Advance is Joomla SEF component which extends its built-in Search Engine Friendly URL functionality and raises it on a higher level. Instead of ordinary Joomla URLs which are often strange and inconsistent, you will get human friendly URLs in form of:
http://www.site.com/category/subcategory/article/
Because URLs consist of meaningful keywords rather than numbers, SEF Advance will drastically improve your search engine positions.
SEF Advance is the only pure-logic SEF solution, not relying on database for URL storage, resulting in stunning performance. Being developed, improved and supported for 10 years by a core developer of Joomla! and Mambo, it is the oldest and most reliable Joomla SEF component available.
Supporting them natively or with free extensions, SEF Advance improves URLs even for many 3rd party components for Joomla. See what others are saying about SEF Advance and check out the DEMO.
SEF Advance improves your site's search engines ranking
Because your URLs will consist of content titles rather than numbers, SEF Advance will drastically increase your site's search engine positions.
It will also give you nice looking, human readable URLs which are easier to memorize.
SEF Advance is simple
You install SEF Advance like any other Joomla! component and you are done.
If you later want to adjust the URLs' look there are many settings at your disposal.
SEF Advance works
SEF Advance covers all aspects of the Joomla! content structure.
Every link on your site will be converted including section and category listings, blogs, archives, paginations and all core components, even links within your content.
API support for 3rd party components is integrated so even 3rd party components can take advantage of advanced SEF URLs.
SEF Advance is powerful
After you've installed SEF Advance all links of your Joomla! site have been instantly converted to advanced SEF. You don't need to do anything else, like clicking on every single link to convert it or open each page on your website. Every URL has unique address; there are no duplicate URLs (subject to Google's penalties) for the same content.
SEF Advance has stunning performance
SEF Advance is the only pure-logic SEF solution for Joomla! CMS. This means that it does not store any URLs in the database but does conversion on-the-fly. Thus, there are no performance downgrades due to slow database connections, no huge quick-filled tables with duplicate entries, no indexing issues, no slowdowns on big sites with much content. The integrated URL caching system can further reduce the load and improve the performance.
SEF Advance is backwards compatible
SEF Advance will run on Joomla! 3.x and 2.5. There are older versions available even for Joomla 1.5 and 1.0.
If you have an older install on your site which works well for you, and you don't want to bother upgrading other than to improve the looks of the URLs, you can rest assured that SEF Advance will run on your site.
SEF Advance is compatible with standard built-in SEF. If you already have a site using built-in SEF which search engines have already indexed, don't worry - SEF Advance will automatically redirect all requests for old links to their correspondent advanced URLs.
SEF Advance is being developed by Joomla! (former Mambo) core developer
As SEF Advance is being developed by former core developer of Joomla! with in-depth knowledge of the system, you can be sure that this component is using latest system standards.
SEF Advance has been developed and improved for over 10 years
SEF Advance has been actively developed, improved, tested and maintained since 2003.
During this time it has evolved following Joomla's development path and been cleared of many bugs and problems. The long development time assures that SEF Advance is functional and carefully tested by many users over the time.
SEF Advance is supported
If you have problems with the component you can get personal help from the Joomla! core developer.
I love it because it is very fast and does not blow my database.

Steffen Werner, IT-Maximierer
This is some awesome software! I will be buying more licenses in the future for all my websites that I make.

Steven Ayers, lamamarket.com
Not only is SEF Advance the best choice for SEF URL's for your website, but it is backed up by Emir's fast and efficient support. Thank you so much for your recent help Emir, you are a champion!

Rob Barton, thegreendirectory.com.au
We're quite impressed with the level of support you've offered over the years for SEF Advance. Your commitment to improving and updating SEF Advance has been fantastic. SEF Advance has certainly come a long way over the years. It continues to be a core component that every new website we deploy relies upon.

Jim Sheridan, Worldwide TeleNet
Your SEF Advance is a great work! I love it. All my pages where I used it are TOP on Google!

Michael Hoffmann, electronical Services Hoffmann
I just purchased two copies of SEF Advance after testing it this week. Brilliant job by the way. I have tried all the others and ran into many problems.

Brian Edwards, Musclecarfacts.net
Wow, that was unbelievably easy to set up. It took me less than 20 minutes from receiving your email to getting my site up and running! It was well worth the money. Congratulations on a super product!

Dominic Dumée, antibody-software.com
I want to thank you for creating such a great product. I would have no idea why everyone would not have SEF Advance installed on their Joomla! website. Love it!

Dennis Hosang, hosangit.com
I have loaded the SEF Advance and am very impressed with how easy it is to use. I was also impressed with the tracking of 404 errors and what url was typed in that gets redirected. Thanks for making a great product.

Ron Heims, successinsiders.com
I want to say your SEF component is AWESOME! We love it, and we're going to move all of our sites to it immediately. We've tried them all, and your is fantastic. We really, really love it!

Lance Barton, takingoverhollywood.com
I've used SEF Advance on my main site and the results have been spectacular. It has made a difference to the way Google has indexed my site already. And I've tried all SEF components, nothing compares to SEF Advance!

Peter Ross, alliance.org.au
I am very impressed with your wonderful product. I installed the demo and it was working perfectly so I just purchased it!

Bill Welsh, empireaviation.net
Thanks. We are very impressed with your component.

Patrick Walsh, furniture.ie
Thanks for your time and a great component. It's a pleasure to use something that works!

Joshua, makingamillion.biz
Just wanted to say thanks for your work with SEF Advance!
We run several big sites in Denmark and are really dependent on having great and up to date sites. SEF Advance is one of the most stable components we rely on for all our sites and we really appreciate your continuous work on making SEF Advance even better!

Kenneth Lund, bryllup.dk
SEF Advance is beautiful and is working excellent!

Kay Ritchey, suburbanhousehunters.com
Your program has been very valuable and your free upgrades are wonderful. Thanks!

Jason D. Baker, bakerlearning.com
I was using 'a competing product' and I wasn't happy with the speed. I installed the demo of SEF Advance and liked it so much that I had my boss buy it for our site. Thanks for a great product!

Malakai Kingston, SilverfishLongboarding.com
Wow, what an awesome product. I downloaded the trial and quickly decided to purchase.

Stanley Goeing, kylawpractice.com
Great component, can't believe how much simpler it is vs. 'a competing product'!

Colin Gourlay, electric-playground.com
We have had a look at the trial version and it is a SUPERB component - congratulations - we hope it is very successful for you.

Robert Moores, eyewearsystems.co.uk
The component worked like a wonderful charm. Love it and thank you. It is totally worth every dime.

Georgina Jackson, onlymyemail.com
SEF Advance is the best 40 Euros I've spent, a five minute install and I now have perfectly Search Engine Friendly URL's. Works like a charm. Thanks!

David Kay, backissuesheaven.com
SEF Advance is superb! I'd be lost without it.

Carl Briggs, TheTranceArena.com
SEF Advance component has proved to be the most powerful automated Search Engine Friendly optimization tool in the web industry.

siteground.com
Thanks for a wonderful component - it works great.

Yuco, docmagic.com
Great work on this product, 40 Euros is a small price to pay (for me) for nice URLs.

Steve Soltz, sskcreatives.com
The product works wonderfully and any problem I encountered was prompty fixed by Emir. Thank you very much for the fantastic product and amazing service!

Jan van Voorst, planetsave.com
You get two thumbs up from me, and your SEF Advance is great! I'll be buying a couple of more licenses in the future.

Kevin, rollingpaperdepot.com
Kudos on an awesome product. I had been using 'a competing product' and hated it. SEF Advance is well worth the money.

Douglas Boldt, mergemedia.net
I'm just trying out the trial of SEF Advance for a new client site and I'm very impressed. This is actually the first SEF component that has seemed to work without a hitch, so I'll be purchasing this for all future client projects.

Torry, soundloop.com
It took me about 5 minutes between testing your component and purchasing it. I am delighted at how well it is working. We have 2000 content items, about 3000 daily visitors and support for 5 languages with Joomfish. I tried several other SEF components, and none would work right. They all broke at some point. The sheer amount of URLs they were generating was driving me crazy and worried about search engines thinking I was spamming them.

Carlos Hassan, reade.com
As always, you and your software amaze me!

Jonathan Dimock, corpwebhost.com
You are a nice programmer and this component is great. Thank you!

Rajeshkannan MJ Vijayalakshmi, extremetemplates.com
I have purchased your SEF Advance script some time ago. I am very satisfied with it. Easy to handle and brings at least twice as many visors as without it. Congratulations.

Matthias Janeck, budapestagent.com
SEF Advance is the best thing since sliced cheese! Thanks for the great work - don't know where the internet would be without you!

Jason, catchingmercury.com
Thanks for this great product, works well.

Chijo Takeda, dogpawstudio.com
I am amazed how easy you have made this, great work and it goes without say that I will be using it for future sites. I didn't even have to update the links, thats just top. Great component. Thanks.

Mohinderpal Liddar, positivehands.co.uk
Love your product! It helped me invaluably on getting my PR up.

Richard Brown, replicawatchreport.com
Emir, You are a genius. I tried the free SEF components and they both failed miserably. This works like a charm. Thank you!!

Sid Smith, bwords.com
How great it is to see thousands of my website links turned into search engine friendly, nice looking, human readable URLs which are easier to memorize. Thank You and excellent job!

Michael Lee, guidebuy.com
I am thrilled with SEF Advance. As far as I am concerned SEF Advance is what makes the whole Joomla CMS worthwhile, without it your mediocre, with it you're an SEO contender.

Yvonne Bailey, ebizcentralnetwork.com
Unbelievable! Five minute install and it works pricelessly. I assumed I would have to modify some content or change things on the site around a little, but SEF Advance is amazing! Thank you for all your work and the great product.

Jonathan Dimock, corpwebhost.com
Awesome component!

Marc David, beginningbodybuilding.com
Great product; I had it up and running in 15 minutes. Best $50 I've spent in a long time!

Richard Brown, replicawatchreport.com
Great piece of code

Tom Rose, thrcomputer.com
Best buy I've ever done!

brandblast.com
It works like a dream. I just can say, 40 Euros were a good investment.

Karl Stöckl, baddeutsch-altenburg.at
Great stuff! Worked like a charm and super easy to install. I'll be back for more after some prospective clients get a look at this.

Greg, Page Green Internet Services
Saka helped us out and we really appreciate it! SEF Advance is a great piece of software.

Brian Sooy, Brian Sooy & Co.
I know there are other versions emerging, but I gotta tell you. I tried two or three of them and had nothing but grief. SEF SEO support using SEF Advance, while it may cost, was a 'install it and forget it' solution. When I did have problems Saka was right there to help.

Tjay
Fantastic update, I'd been hoping for this! Thanks again, great product.

Noah Kuhn, atbc.bc.edu
The decision to move to Mambo was based entirely on the SEF functionality your component delivers -- and I'm happy to say .. everything has been working great.

Shri, georeviews.com
Thanks for the great product, It is seriously amazing how well it works with Google.

Jay Addison, BCFarms.com
I do want to thank you for pursuing this matter for me. That level of customer attention really makes it worth the purchase price.

Kurt Reigle, work-at-home-source.com
AWESOME PRODUCT, search on EVDO in Google and you will see EVDOInfo is all over.

Michael Ginsberg, evdoinfo.com
Thank you once again for your excellent product and your prompt and responsive sales and support service. You have made it very easy for us to move forward with our business in supporting our clients and providing them with a world class solution. I would be very please to recommend such a professional product and support such as yours. Many thanks again for Emir.

Peter Burgess, OzeHost Internet
SEF Advance established an application interface (API) for 3rd party components to enable and take advantage of advanced, human friendly URLs. This interface has been adopted by all other, later appeared, SEF components and became a standard.
An extension file called sef_ext.php should be created and placed in the component's main directory. If found, SEF Advance will pick up the extension and use it for creating and reverting SEF URLs.



These are SEF Advance extensions for some components or links to 3rd party components that contain the extensions which will produce advanced URLs when used in combination with SEF Advance:
Extensions provided by a 3rd party (support given by respective extension author):
Please note that 3rd party component extensions are not supported by us. For inquiries about components please contact their respective author.
If you are a component developer please refer to our SEF Advance Extensions Guide for information about writing SEF Advance extensions for your own component. Also take a look on the included sef_ext.php example file, as well as on the available extensions for other components.
---