Your favourite SEF component is now available for Joomla! 3.x!
SEF Advance is component for Joomla! which extends its built-in SEF capabilities, eliminating numbers from the URLs, fixing the duplicate content issues, giving you the more logical and consistent URL structure, custom metadata, SEO bits, integration with 3rd party components and much more.
Features
SEF Advance for Joomla 3.x features everything you were used to in previous versions. The backend has been redesigned, is now more logical and consistent, responsive and in line with the rest of your Joomla 3 administration.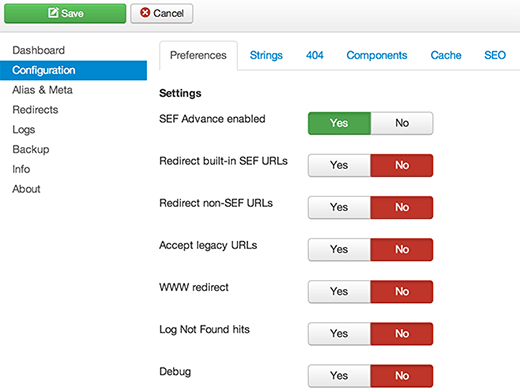 SEF Advance for Joomla 3 - configuration

Great URLs

Instead of built-in SEF URLs for Joomla! 3.x which look like:
http://www.site.com/menu-title/submenu-title/25-koala
you will get URLs without numbers, using more logical structure, independent of the look of your menu:
http://www.site.com/photo-gallery/animals/koala/

The URLs will follow your content structure rather than the menu structure and will always look like http://www.site.com/category/subcategory/article/, supporting infinite category levels.

No duplicate content

SEF Advance will also eliminate duplicate content problems. As you might know, by default, Joomla! 3.x can have different URLs for one page, depending on the state of your menu. For example, http://www.site.com/using-joomla/extensions/components/content-component/article-category-list/21-getting-help and http://www.site.com/using-joomla/getting-help both lead to the same page. This will make search engines consider them different pages with duplicate content, something penalised by decreased page rank.
Using SEF Advance, you will always have the same URL for each page, in this case: http://www.site.com/sample-data-articles/joomla/getting-help/

Install it and forget it

SEF Advance will automatically convert all URLs of your Joomla! 3.x site to new, advanced URLs in the same moment as you install it. You don't have to do anything else like clicking the links or opening pages.
It will also redirect all requests to old-style SEF and non-SEF URLs to corresponding advanced ones.
For example, a request for http://www.site.com/using-joomla/extensions/components/content-component/article-category-list/8-beginners and request for http://www.site.com/index.php?option=com_content&view=article&id=8:beginners&catid=19&Itemid=260 will both be redirected to http://www.site.com/sample-data-articles/joomla/beginners/ returning the correct header to browser and search engines.

Helps optimising content for search engines

All other features present in previous versions, like various options for customising your URLs, URL alias, custom metadata and custom redirects, are also available in SEF Advance for Joomla! 3.x.

In addition, adding custom aliases and redirects have been simplified. You can do it by a simple click from your 404 Log of the non-found URLs.

Support for 3rd party components

SEF Advance features an API for supporting 3rd party components natively. We commit ourselves to build extensions and support most popular and most requested components.
Performance
SEF Advance is famous by its great performance and stability.
It is the only pure-logic SEF solution for Joomla! CMS. This means that, as opposed to all other SEF components for Joomla!, SEF Advance doesn't store converted URLs in database or anywhere else. It uses its logic to calculate the correct URL each time a page has been requested. This way, there are no performance downsides due to slow database connections, no huge quick-filled tables with duplicate entries, no indexing issues, no slowdowns on big sites with much content. There is also an option of disk-caching the URLs at your disposal, should it show to be working faster on your site. For us, the performance of your site is number one priority.

The long development path of SEF Advance, its devoted developer and testing crew, and the big client base assure its stability and support even in future.
Upgrading
According to our recently announced license changes, all current users of SEF Advance can upgrade for free, within the subscription period.
If you bought SEF Advance before March 2013 under the old license terms, you will have to buy the new license to get Joomla 3.x compatible version.

I hope you will enjoy SEF Advance for Joomla! 3.x.

SEF Advance product page SEF Advance demo Buy SEF Advance