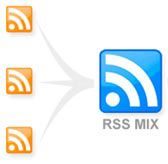 Today I received an interesting question: "Is there a way to add multiple RSS feeds to run simultaneously in AJAX Scroller?". We know that there is only one single field for entering URL of the feed to be fetched and displayed by AJAX Scroller. So how do we add several different RSS feeds and combine them together in the output? Simple: we use an online feed aggregate tool!
There are different tools for mixing and blending multiple RSS feeds available. But only one can be the best: Yahoo Pipes. I am going to describe how you can combine several feeds into a single one to be added to AJAX Scroller using Yahoo Pipes.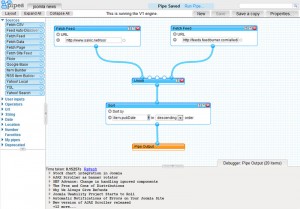 Go to http://pipes.yahoo.com/pipes/ and sign in with your Yahoo! ID. If you don't have one register for free. While you are there have a look on the helpful Learn How to Build a Pipe in Just a Few Minutes video.
Click on Create a pipe link on the top. You will see a pipe editor with a Library at the left-hand side and a Canvas area on the right.
From the library on the left, open Sources, select the Fetch Feed module and drag it onto the canvas area. Enter a URL for the source RSS feed into the module. Do the same for each RSS source you want to mix.
Open Operators, select Union and drag it onto the canvas area. This will be used for mixing the sources.
Open Operators, select Sort and drag it onto the canvas area. This will be used to sort the feed entries by criteria of your choice. It's most common to sort entries by date so select Sort by item.pubDate in descending order.
Now connect the modules together and to the Pipe Output according to the illustration. If you have done everything right you will be able to see the output in the Debugger area on the bottom.
Click on the Save button on the top, give the project a name and save.
If you now click on Run Pipe link on the top you will get a page with the feeds' entries combined together. There will be option to Get as RSS. Copy the address and use it for AJAX Scroller.
Your AJAX Scroller module will now display entries for all RSS sources mixed together.