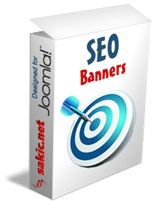 SEO Banners is a plugin for Joomla which makes your banners more optimized for search engines.
Instead of pointing to internal banners component and redirecting to external URL when clicked, your banners will now link directly to external URLs while updating the counters on click in the background. This makes your banners more valuable to search engines as they are now able to recognize the sites you are linking to and update their page rank accordingly.
NOTE: If you use a 3rd party SEF component, make sure the SEO banners system plugin is ordered BEFORE any SEF plugin. Also note that the plugin forces opening links in new window (required).
See it in action on this site.
---