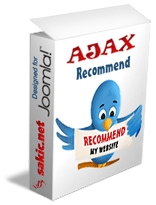 AJAX Recommend is a module for Joomla! 1.5 / 1.0 that allows visitors to recommend your site to their friends by email.
Using AJAX technology, the whole process is performed without need for page refresh, making it very quick and user friendly. The module is powerful but simple to install and use.
See what others are saying about AJAX Recommend and be sure to see it in action on our DEMO site.
AJAX technology, making the module very quick and user friendly
Possibility to add as many emails as you want
Adding a short message to be sent along
Emails validity check, required fields check
Sending emails without page refresh
Progress image display during the sending process
Using internal mail function for sending via PHP mail, Sendmail or SMTP server
Configuration to make email appear coming from Site Admin or Visitor
Configuration to send mail in plain text or HTML
Configurable input field sizes
Dialog translations via module configurations
Joomla! 1.5 native (no legacy mode required) and Joomla! 1.0 compatible
Thanks for the most valued Joomla addon I bought in a long time .. Super great work ..

Leif Bohlin, 2go.se
Ajax Recommend is a very nice module, much better than the free component. I am very happy this has been converted to a module because it gives a really neat and space saving integration in my website - it is well worth the 5 Euros that I paid for.

Eric LEBOEUF, let-it-direct.com
Your AJAX Recommend works perfectly. It's a super add-on, and in my opinion, an absolutely essential component for any Joomla website! Congratulations: I hope you do really well with it.

Brian Austin, internettips.com
Nice piece of code... I'm ex-MS myself - so can spot nice code when I see it.

Simon Kelly, Premier Website Design
---